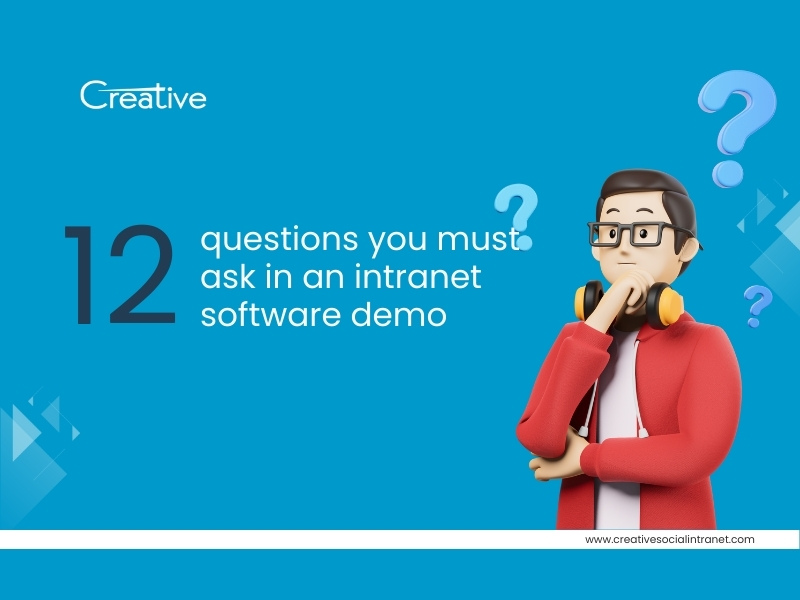 12 Questions to be Asked During an Intranet Software Demonstration
When you're considering a new intranet software, the vendor's demo is a great opportunity to get a feel for the product. But if you want to get beyond the star customers and best features, you need to know the right questions to ask. Here are some key questions to ask during a software demo, to help you make the most of your time.
Although organizations periodically change intranet software providers, even the most experienced internal communicators can go their whole careers without being involved in the purchase of a new intranet. Why? Some companies have legacy systems that last for years, while others decide that planning a new intranet is a project for IT.
It can be challenging for HR and internal communications professionals to be included in the procurement process for intranet software, especially when it can result in such massive workplace changes. While they may be part of discovery calls and sales meetings for other platforms, they may not know the best questions to ask in an intranet software demo if they don't have specific experience with it.
Exploring different new intranet software
If you're at the stage where you've built an intranet business case, you're probably also familiar with software review websites and have weighed your intranet options.
The next stage may be to invite vendors to give you an intranet demo. Assuming you give each vendor an hour of your time, here are some questions to ask that will help you decide if you want to progress further.
It's important to remember that this may be the beginning of a relationship that lasts years. Asking the right questions can give you key insights into the platform, its people, and how they can help you achieve your internal communications objectives.
Questions to be asked during an intranet software demo
1. Which features of your platform allow non-experts to create intranet content?
A CMS intranet is only as good as the content that is put into it. It is important to find software that allows for a wide range of different authors so that you can get the most out of your intranet. Make sure to ask for content creation demonstrations as part of your meeting in order to get the full picture of what the software is capable of.
2. How can I send notifications to colleagues about new communications and updates to intranet content?
Intranet software today typically supports multichannel communication and measurement. Make sure to ask about the workflows for distributing messages through these channels:
Homepage lockout (pop-up with acknowledgment tracking on desktop/ native apps)
Homepage banners (desktop/native apps)
Email
Mobile app
SMS
Slack
Teams
Digital signage
3. Can users modify their communication preferences?
All employees should be able to personalize the content they receive, from selecting a default language to opt out of mobile app notifications. A good intranet software demo will show you how to set up these options.
4. Is your platform capable of providing more than "push" communications?
Internal communication is essential for a well-functioning intranet. While professional communicators are responsible for creating and distributing information and resources, it's also important to have a system that allows for peer-to-peer communication and enterprise social networking. Make sure to ask about blogging, forums, commenting, @mentioning, and other enterprise social network tools when considering an intranet solution.
5. Is the product equipped with tools for content monitoring and governance?
Content governance is an important element in intranet management. Out-of-date content can result in a system becoming bloated with irrelevant information, ultimately leading to disengagement and lack of usage. Ask about page management features that automatically notify intranet managers when content expires or a page author leaves the business
6. Which metrics are measured by the intranet?
One of the benefits of using an intranet rather than the internet is that you have more control over who has access to it. Most intranet software providers offer data analytics as part of their package, which can give you insights into which pages are getting the most traffic, how many users are accessing the intranet from mobile devices or web browsers, and more. Be sure to ask about the analytics package when you're considering different intranet software options.
7. Will my intranet represent our company's brand?
As the only software app that enterprises routinely brand, an intranet should visually represent your company and your internal branding. From logos to a platform name chosen by you, your intranet should be the authentic visual heart of your digital workplace.
8. How will the user experience of your platform encourage increased adoption?
Asking your intranet software demo vendor for examples of how they have considered UX in their design process is important. You should also ask about what the build process will look like and how you will be consulted about the design. As the expert on what your co-workers want, your input is crucial to creating an intranet that is easy and enjoyable to use.
9. We've had problems with employees not being able to find the right content in the past. Your system seems like it would be really good at surfacing relevant content for all employees. Can you tell me a little bit more about how it works?
When considering intranet software, it is important to make sure that the enterprise search feature works well. This feature allows users to connect with document management systems, user profiles, and intranet content. The intranet search engine should be able to use metadata and keywords to make content discoverable.
10. There are already a lot of software platforms in our digital workplace, like ones for online working, HR, and IT. How will the intranet fit in with all of these?
The intranet is the foundation of the digital workplace. It's where organizations host key content and communicate internally, but as the digital workplace has expanded to include SaaS products like the M365 suite, Google Workspace, Zendesk, Slack, ServiceNow, and others, the intranet has become the digital hub for all of these apps. Through one user-friendly homepage, employees can access everything they need to check schedules, file expenses, and call up collaborative documents.
The digital workplace and intranet security is increased when access is channeled via single sign-on because it limits the number of passwords and "attack surfaces." This is also more productive because it stops users from having to flip through a wide range of browsers and apps. When you're taking an intranet software demo, ask which software integrations the vendor supports and whether they come as standard "out-of-the-box" options or if they need configuration. If you go to the meeting armed with a list of the platforms your digital workplace uses, you'll be prepared for the conversation.
11. What distinguishes your company from other software vendors?
During an intranet demo, you'll learn more about the provider's history, clients, values, and resources. This is also a good time to ask about the vendor's financial position. For example, is the vendor likely to go through any merger or acquisition activity? This could change the status of their independence and ability to focus on delivering the best product for you.
12. What is your long-term plan?
It's always important to keep in mind where a company is going, not just what it's doing right now. In the case of SharePoint, for example, while some organizations use it as an intranet, they may not have any input in how it will look or function five years down the line because Microsoft is such a large global company. Asking about a company's plans for the future can help give you a better idea of whether or not it's somewhere you want to continue to invest your time and energy.
Get the intranet your company needs.
Workplaces are always changing, and it can be hard to keep up. That's why you need intranet software that is flexible and can change with your workplace. Additionally, you want to be sure that the vendor you choose has the resources and expertise to help you meet your objectives. With a project as important as this, you need more than just software- you need a partner.
During the procurement process, asking the right questions can help you determine whether you're speaking with people who can deliver for you.