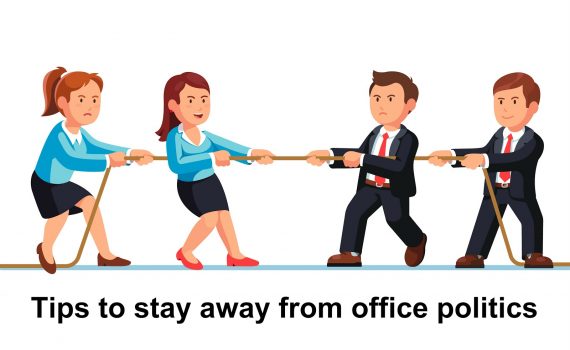 Firstly office politics occur in almost all workplaces. Competition is predictable especially when employees spend nearly half a day together and compete for the same promotions or raises. While some claim office politics are a crucial part of the workplace, others find it pointless and a toxic part of office culture that strains relationships.
So how will you prevent yourself from being damaged by uncontrolled office politics and gossip?
1. Think back like a High School student
In some aspects workplaces are a lot like high school. So when you fall in trouble with gossip or office politics, think about it as an adult and give advice to a high school student. Also how would you react as your high school self?
2. Avoid revealing your personal secrets
It is always best if your coworkers do not know enough about any of your personal information that they could misuse to hinder your advancement. If you plan to make friends with your coworkers on social networks, think about applying a "work friends" privacy setting on your Facebook page.
3. Communicate with Your Boss
Help your boss make decision making easier by letting him/her know you're looking for advancement. Your boss also might help you by giving vital tips for improvement to get promoted.
4. No Gossip
Gossip is the easiest way to get into trouble. Though it's fine to socialize, remember everything you say can come back to you later, particularly if someone wants to benefit from it.
5. Stay Informed and updated
There's a fine difference between gossip and staying updated. You should avoid the worthless office talk, but still pay attention to what others say. While gossips isn't necessarily trustworthy, you must keep yourself updated and well informed to pick up on indications about upcoming promotions or major changes like corporate restructuring, store closures, or outsourcing.
6. Make Friends Carefully
Work would become boring without socializing with co-workers, but make sure you make friends carefully. Avoid being friends with someone who keeps saying negative things about others. Those who you have befriended at work can also influence your boss's decisions. 
7. Detect the Backstabbers
Once you start socializing at your new job, it's important to detect the gossipers and backstabbers. Avoid such backstabbers and find a better friend — one who will talk positively about you during promotions or reviews.
8. Think about Long-Term
You may be frustrated to find out someone has been spreading gossip about you at work. Try to avoid revenge, think about the long term. Take the high road as it may be good for you in the end.
9. Don't complain at Work
Too much complaining about work will leave a negative impression. When you have any work-related issue or feel like not being treated fairly, take it up to your boss. Get recognition for your efforts, ask for it.
10. You are being watched
Always assume you're being watched at work all the time. People may play games to test you. Make no mistake as your performance will determine your future at the company.